Are you ready to embark on a journey to discover the vibrant and exotic world of kiwifruit? Known for its distinctive green flesh speckled with tiny black seeds, the kiwi is not only a visual delight but also a powerhouse of nutrients. In this blog post, we will explore the myriad benefits of eating fresh kiwi and share some delectable kiwi recipes that will make you fall in love with this remarkable fruit.## **Unveiling the Kiwi: A Nutrient-Packed Wonder**Before we delve into the delectable recipes, let's uncover the numerous health benefits that fresh kiwi brings to the table.### **1....
---
  IntroductionPineapples are not only a tropical delight but also a nutritious powerhouse. Bursting with flavor and loaded with vitamins and minerals, pineapples can be a tasty addition to your diet. However, slicing a pineapple can be a daunting task without the right tools. That's where a pineapple slicer tool comes in handy. In this comprehensive guide, we'll walk you through the step-by-step process of using a pineapple slicer tool and explore the myriad benefits of incorporating this delectable fruit into your daily life.   **Part 1: The Pineapple Slicer Tool**### What is a Pineapple Slicer Tool?A pineapple slicer tool...
---
A Comprehensive Guide to Dehydrating Herbs: Preserving Flavor and Freshness in Your Culinary CreationsIntroductionHerbs are a culinary treasure, infusing our dishes with flavors that elevate them from ordinary to extraordinary. Whether you're an avid home cook or a professional chef, the rich aroma and vibrant taste of fresh herbs can make all the difference in your culinary creations. However, fresh herbs have a limited shelf life, and preserving their essence is essential for year-round enjoyment. Dehydrating herbs is an age-old technique that allows you to store and savor these natural wonders long after their harvest season. In this comprehensive guide,...
---
• culture • cutting edge cultures • fermenting • vegetable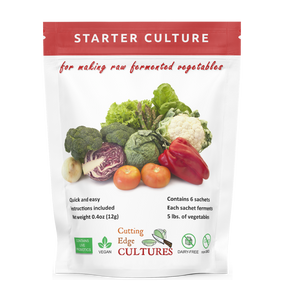 IntroductionIn recent years, the world of food preservation and fermentation has experienced a resurgence in popularity, and for good reason. Fermented foods not only offer incredible flavors but also provide numerous health benefits. One essential tool in the world of fermentation is the Cutting Edge Cultures Vegetable Starter Culture. Whether you're a seasoned fermenter or just starting your journey, this cutting-edge product can take your culinary adventures to new heights.In this comprehensive guide, we will delve deep into the world of vegetable fermentation using Cutting Edge Cultures Vegetable Starter Culture. We will explore the basics of fermentation, the benefits of...