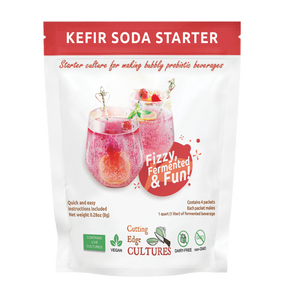 IntroductionIn recent years, the world of fermented beverages has witnessed a resurgence in popularity, and kefir soda has emerged as a frontrunner in this revival. Kefir soda is not your average fizzy drink; it's a probiotic powerhouse that combines the gut-friendly benefits of kefir with the refreshing effervescence of soda. In this comprehensive guide, we will delve into the fascinating world of firming kefir soda, exploring its history, health benefits, and how to make it at home.Chapter 1: Unveiling the Origins of Kefir SodaKefir soda, also known as kefir water or kefir lemonade, has its roots in the ancient Caucasus...
---
  In the world of healthy eating and nutrition, the term "superfood" is frequently thrown around to describe foods that are packed with essential nutrients and health benefits. One such superfood that has gained popularity in recent years is raw organic nori sheets. These thin, delicate sheets of seaweed have been a staple in Japanese cuisine for centuries, but their benefits extend far beyond their culinary uses. In this comprehensive guide, we will delve into the myriad advantages of incorporating raw organic nori sheets into your diet.**1. Nutrient-Rich Powerhouse**Nori sheets are a nutritional powerhouse, boasting an impressive array of vitamins,...
---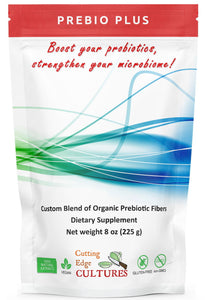 In recent years, there has been a growing fascination with gut health and its profound impact on overall well-being. Amidst this surge in interest, prebiotics have emerged as unsung heroes in the realm of digestive health. While probiotics have garnered significant attention for their role in maintaining a healthy gut, prebiotics are equally important, if not more so. In this comprehensive blog post, we will delve deep into the world of prebiotics, exploring their definition, sources, and, most importantly, the myriad of benefits they offer to our bodies.### **Understanding Prebiotics: The Basics**Before we dive into the benefits of prebiotics, it's...
---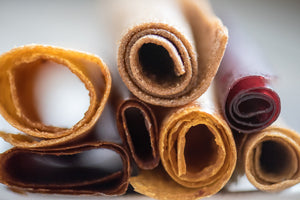 Introduction Fruit leather, also known as fruit roll-ups or fruit jerky, is a delightful and wholesome snack loved by both kids and adults alike. What makes it even better is that you can easily make it at home using a food dehydrator. Not only is homemade fruit leather a tasty treat, but it's also a healthier alternative to store-bought snacks loaded with additives and preservatives. Plus, it's a fantastic way to preserve excess fruits from your garden or a great deal at the farmers' market.In this comprehensive guide, we'll take you through the step-by-step process of creating delicious fruit leather...
---
How to make vegetable rolls with nori, also known as vegetable nori rolls or vegetable sushi rolls. These rolls are commonly filled with a variety of vegetables and rice. Here's a basic recipe:**Ingredients:**For the sushi rice:- 1 cup sushi rice- 2 cups water- 2 tablespoons rice vinegar- 1 tablespoon sugar- 1/2 teaspoon saltFor the vegetable filling:- Nori seaweed sheets- Assorted vegetables (e.g., cucumber, carrot, avocado, bell pepper, and lettuce)- Pickled ginger (optional)- Wasabi (optional)- Soy sauce (for dipping) **Instructions:****1. Prepare the Sushi Rice:** - Rinse the sushi rice in a fine-mesh sieve until the water runs clear. - Combine the...